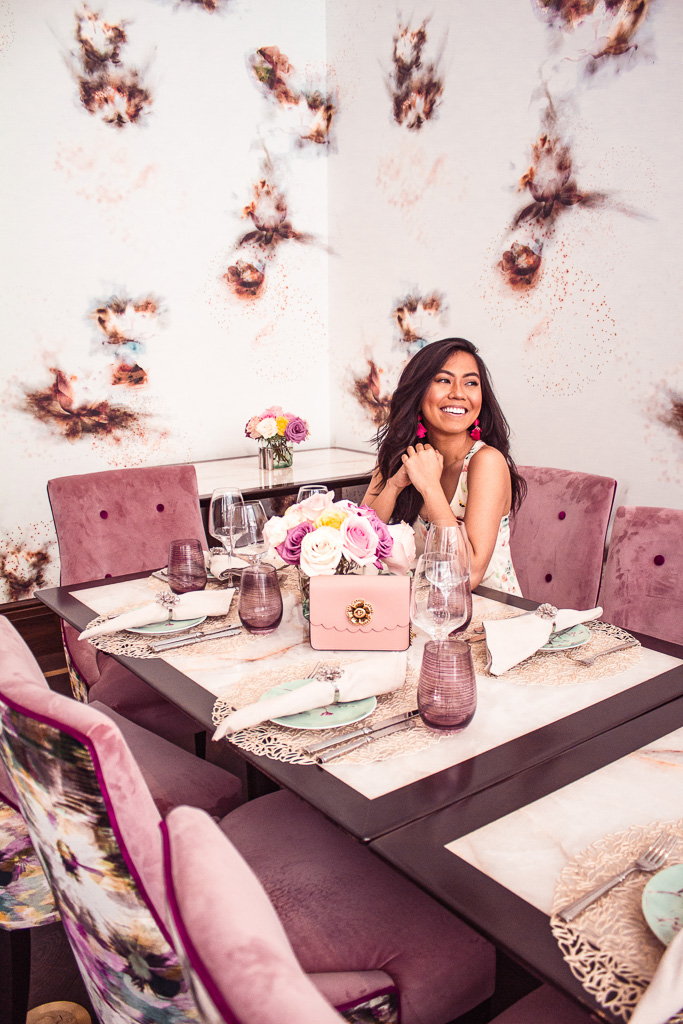 The summer season has been making me want to try more food, and with every brunch planning, I keep asking my friends, "Does the place have a pretty aesthetic?" "Does the restaurant have some cute food?" Great tasting food isn't just the only factor when it comes to the food industry these days. With sites like Yelp and Trip Advisor, online food reviews have made the internet become the forefront source of whether customers are willing to come to the door. Now that there's a plethora of new restaurant openings in Houston, it's hard to decide which food spot is worthy of a dining experience!
Although I was raised in Houston, there's so many eateries that I haven't even tried, let alone heard of! I almost feel out of touch with the city's food scene with the fast pace of restaurant openings happening each month. With my return back to my home city, I've decided to seek out the most beautifully aesthetic food spots in Houston, TX that'll make you not only bring your wallet, but your camera too! Because honestly, what's the point of dining if you're not enjoying the restaurant experience?
TEABYSEA
Location:  2015 Yale St, Houston, TX 77008
Want to taste delicious, natural coffee, smoothies, and teas in a pink wonderland? If you didn't think it was possible, Teabysea made that idea come to life earlier this year when they opened their doors last Spring. Think of pink murals with green palm trees with marble counters. The colorful aesthetic of the place makes the dining experience worth the visit. If you're studying or love to read, this tea shop encourages it! If you want their speciality drink items, try any of their matcha lattes and Pink Chai. The tea shop's attention to detail and unique flavoring really shines, especially when you take a look at the way they create each beverage. This tea shop will make you want to revisit more than once!
---

BLOOM AND BEE
Location:  1600 West Loop S, Houston, TX 77027
If you want to immerse yourself into a luxurious, sophisticated restaurant surrounded by flowers, then Bloom and Bee is the place for you. The restaurant design, from their lighting fixtures to their silverware, is insanely pretty and perfect for any girl's outing occasion. With the restaurant being located inside the Post Oak Hotel, you'll find the ambiance very sophisticated and sweetly cozy once you enter inside. It felt like I was in a garden wonderland with the floral wallpaper and suede chairs as I was being seated! If you want to try some unique dishes from the average American cuisines in Houston, I would recommend trying their Scallop Crudo and Baked Alaska. It was excellent! You'll find that their menu has unique ingredients that make their food stand out from traditional recipes. All in all, this enchanting restaurant is a 10/10 for me.
---
AQUA S
Location: 9889 Bellaire Blvd D232, Houston, TX 77036
Aqua S, a soft serve ice cream shop originally based in Australia, is now located in Houston! Now, dessert lovers can save their flight tickets and get the same ice cream experience right in Bellaire Boulevard. Inside, their pink neon sign "I Got Served in Houston!" is iconic and the cotton candy blue and pink accent colors throughout the dessert shop is befitting considering that their speciality ice cream cones. When you order, you can customize your ice cream flavors with an assortment of toppings, such as sweet popcorn, fairy floss (AKA cotton candy), pop rocks, and toasted marshmallow. Once you receive your dessert you can't help but take photos of your dessert with the cute mural and props inside! If you want to taste an unforgettable ice cream cone, Aqua S is Houston's top place to try.
---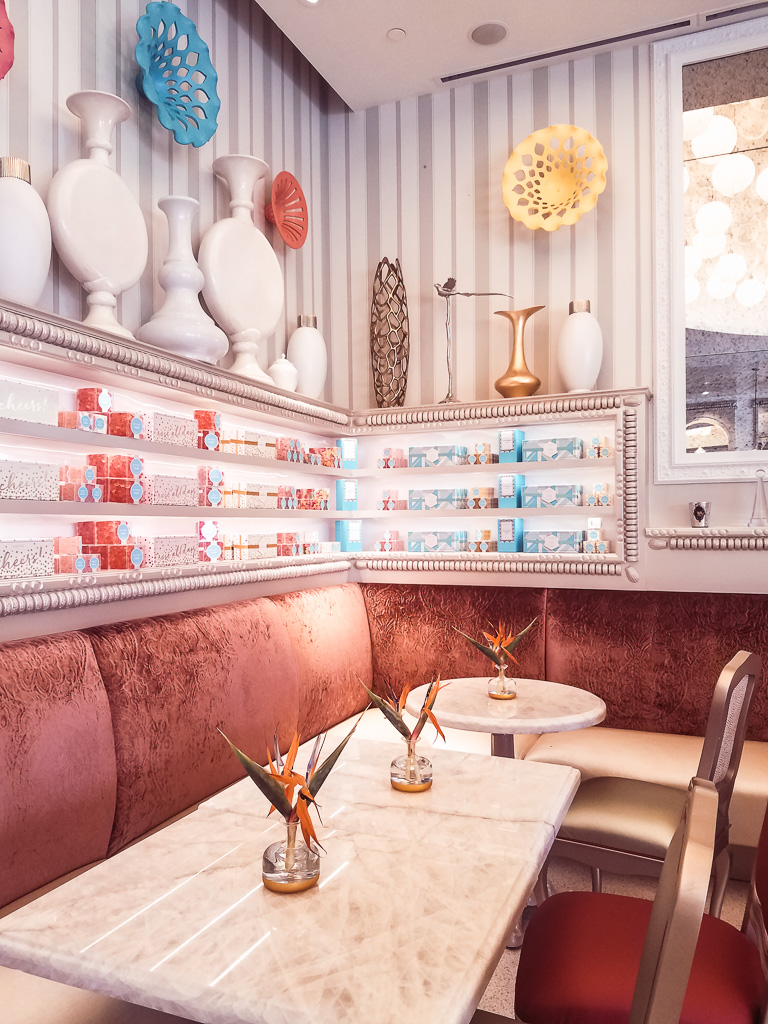 BOUCHÉE PATISSERIE
Location: 1600 West Loop S, Houston, TX 77027
If you've eaten at Bloom and Bee, you'll discover that this dessert spot is right around the corner! Described as an "artisan confectionary," Bouchée Patisserie is a one-of-a-kind experience for all sorts of sweet treats. First off, who wouldn't be in awe of the magnificent design and decor of the place? Their marble counters and tables showcase luxury aside their coral pink suede seating. And if that wasn't elegant enough, you'll definitely gush over the striped wallpaper and colorful wall decor. Although I've heard from many that their mini cakes and puff pastries are amazing, I personally loved their gelato. The staff was so kind and helpful when I was indecisive with my order. What I learned is that you truly can't go wrong with any order you make from their menu, because their freshly baked desserts are made with so much love.
---
BEBIDAS
Location: 2606 Edloe St, Houston, TX 77027
Want to know what it's like to eat inside a chic, mini western-style cafe? Then, you should check out Bebidas! In comparison to my previous picks, Bebidas's ambiance is very low-key and casual when it comes to their food options and dining style. However, don't overlook their menu, because their juices and smoothies are some of the best I've tried in the city! My personal favorites are their Popeye smoothies and Pantera Rosa juice. Like Aqua S, they also have a cute pink neon sign inside their restaurant and their seating area has a predominantly coral pink decor color that's very trendy and photo-worthy. If you want a summer treat, their outdoor snowball booth has a cute outdoor patio area with a rainbow striped wall that's darling for photos! I have yet to try their snowballs, but if it tastes anything like their drinks, I'm incredibly excited to try!
---


HONEY ART CAFE
Location: 3516 S Shepherd Dr, Houston, TX 77098
Taste some artsy food at the Honey Art Cafe! This cafe takes dessert to the next level with their colorful cafe, beautiful dessert items, and art classes! Yes, you heard that right…you can also take art classes inside their café! Based on their site, the owners are Rice University graduates who have degrees in Visual Art, Architecture, and Biochemistry who wanted to create a cafe that fuses both food and art together. This cafe really highlights artistry from their illustrated menu to the colorful painted walls inside. When I tried their egg waffle for the first time, I was smiling from ear to ear! Their egg waffles are made to order and its fresh taste in combination with the ice cream was superb. After my visit, it's no wonder that Honey Art Cafe's desserts are some of the most photographed food items on Instagram.
---
Got a favorite food spot from my picks? Let me know in the comments below! For more of my adventures in Houston, make sure to follow me on my Instagram. If you find this post helpful, be sure to share it with all your family and friends (or even bookmark it all for myself, shhh…). Keep your eye out for my next post in Houston- until next time!