This post is in sponsorship with Stay Alfred. All opinions are my own.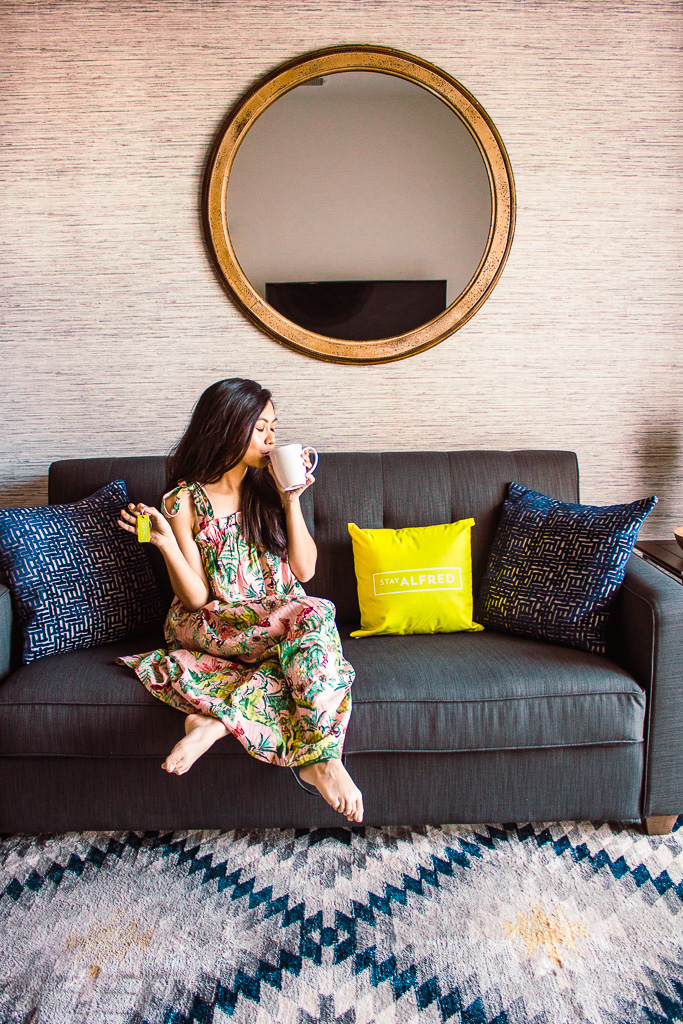 Prior to traveling, I knew very little about Scottsdale. The city of amazing year-round resorts, shopping centers, and renowned golf courses can only do so much to impress me and my yearn for adventure. While the chic leisure activities offered in Scottsdale appear to be solely restricted for city-style living, I found a unique and captivating charm that was unlike any place I've visited. Because you only get a first impression once, I decided to partner with Stay Alfred to make the city my second home.



Stay Alfred surpasses the ideals of staying in a standard hotel. Instead, you'll be staying in travel apartments fit for travelers who want to "find their place in the city." You get the perfect blend of living like a local while staying in chic properties that are centrally located in the city. Many of the iconic landmarks and sightseeing activities are within walking distance to many of the properties, so you can guarantee that you'll have efficient, easy traveling as well! Stay Alfred's properties are expanding and they are currently in 28 cities across the US! I couldn't help but share about the property I stayed in Scottsdale- keep reading!
---
ENTRANCE/KITCHEN AREA
When I first entered the travel apartment, I was completely thrilled with the layout of the room! The kitchen area was what caught my eye first. I really love the beautiful, sleek wooden flooring and matching wooden kitchen cabinets. You can tell the appliances are very new and contemporary by the look of it, especially when you see the stove, microwave, and refrigerator! My favorite part of the kitchen was the mini island next to the mini wooden table and barstools.
---
LIVING ROOM
When you walk past the kitchen, you'll find the living area! What I love most about the room is the gray-blue tones and pops of lime-green color accents! It gives a very modern feel for the space, and while it's very chic, it also makes me feel cozy and comfortable as well. Across the couch, there's a huge flat screen TV that is perfect for watching your favorite shows with guests. Out of all the areas of the apartment, the living room was where I spent my time the most!
---
PATIO AREA

A unique feature about Stay Alfred's Broadstone property is the patio! It's something I wouldn't even get from a 5-star hotel. I adored the views of all the patios facing towards the entrance of the property. During the evening, I enjoyed getting a glass of wine and watching Scottsdale's night sky. If you're staying with company, this spot is a great for socializing!
---
BEDROOM
My initial thoughts of the bedroom? Cozy Perfection. The queen size bed is perfect for two people to comfortably sleep, but I was even more happy to have it all to myself! From all the sightseeing I was doing during my trip, having time to lounge on my bed afterwards was the best way for me to unwind and relax! The room felt very spacious with the white walls, bed sheets, and minimal decor. The carpeting of the room was also incredibly soft to walk in.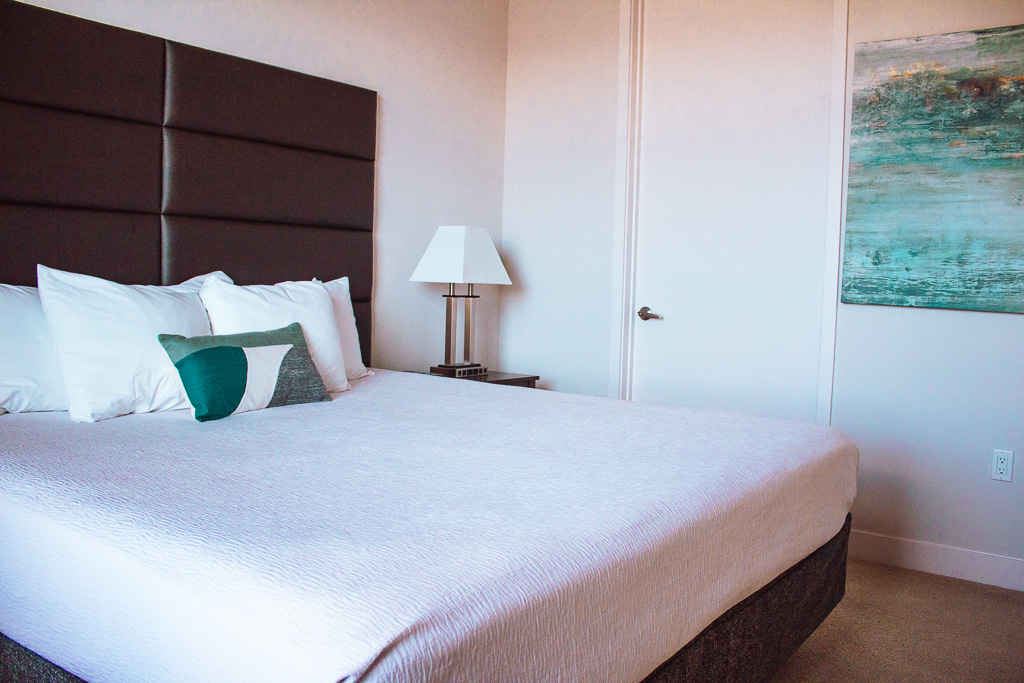 ---
BATHROOM/CLOSET
Looking for a huge bathroom during your stay? Look no further than the one at Stay Alfred's! Although I keep saying this, I simply adore the spacious size of the bathroom area. It includes a bathtub, shower, toilet, 2 sinks + sink counter, cabinets for toiletries, and a walkway to the closet! Everything looked very clean and polished. After a long day of traveling and driving, taking a bath with a sip of wine was what I looked forward to the most!
---
MISCCELLANEOUS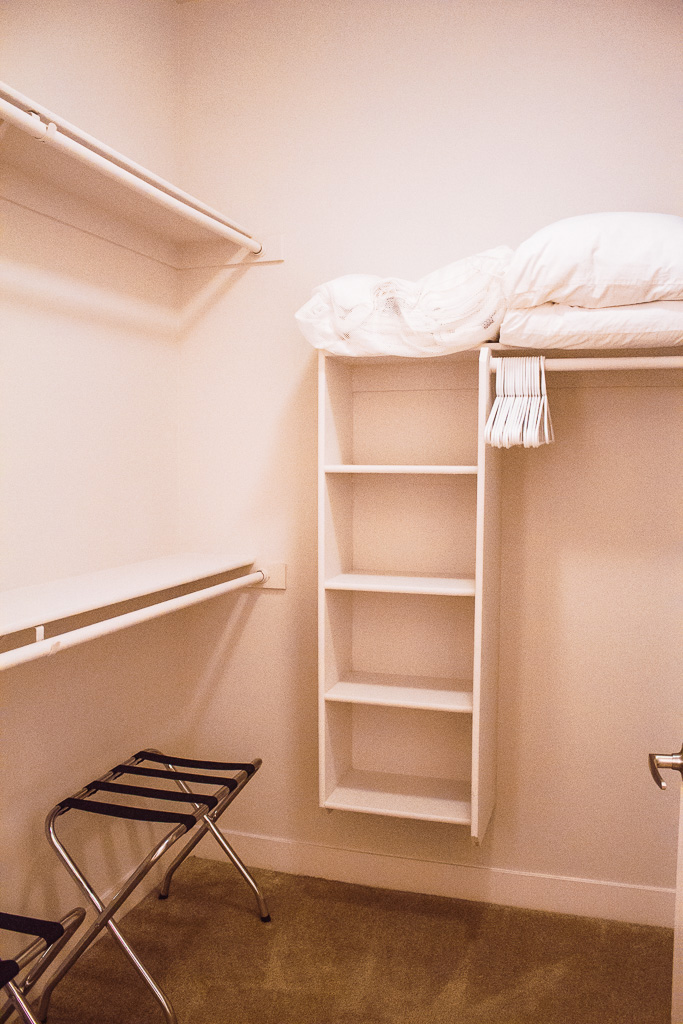 After staying in multiple hotels during the week, coming to Stay Alfred with a huge closet was a huge surprise! Many hotels offer small, thin closets where you can only hang a small portion of the clothes you packed. Ultimately, it was great hanging up all my clothes and seeing them all at once. Other appliances that were offered in my travel apartment was a washer and dryer- which is much appreciated after doing outdoor activities all week!
---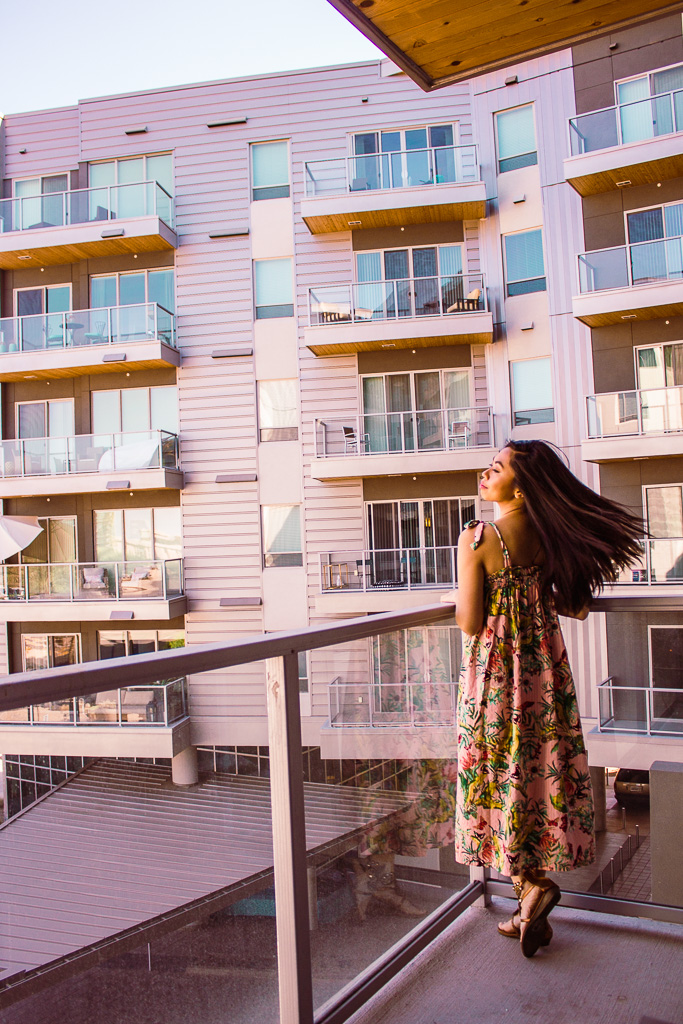 What do you think about my stay in Stay Alfred? Let me know in the comments! Huge thanks to the team at Stay Alfred for arranging my stay. It made me realize how valuable it is to stay in a place that feels like home while traveling. If you find this post helpful, please share it with your family and friends! As always, make sure to follow me on Instagram for all my travel adventures. Until next time!