Linked provided are from RewardStyle and may earn me commission. Earnings help support my blog.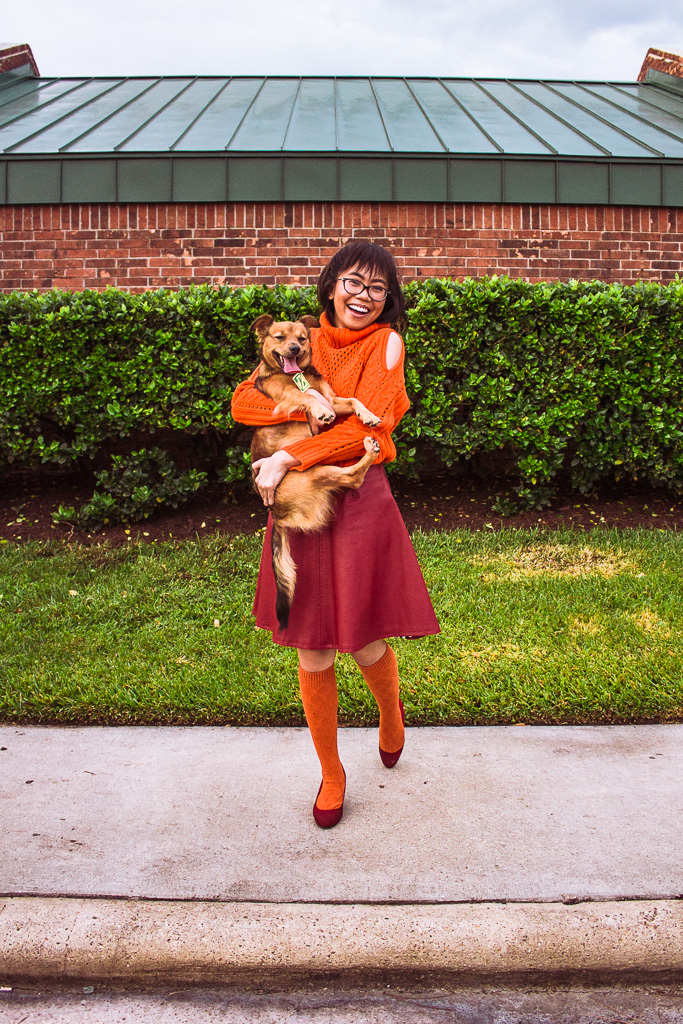 Happy Halloween, everyone! If anyone asks where Scooby Dooby Doo is, I found him! My sweet dog, Rajah, and I paired up again for another Halloween Dog & Owner Costume! We were posh and chic last year as a "Legally Asian" duo, so this year I decided to capture a fun cartoon classic! And what better way to celebrate Halloween than to recreate the most iconic animated mystery cartoon?
If anyone owns a pup or young dog, then you know how difficult it is to keep a dog still with a costume on! Rajah is more of a clothes-free type of dog, so I knew dressing him up would be a challenge. Because of the fact that he was a similar fur color to Scooby Doo's, I knew his "costume" would be a breeze!  As for me, I love how my Velma costume came from closet pieces and recent sales. Click through my shoppable links for some costume inspiration!



Velma Dinkley Halloween Costume
---
What makes Velma such an easy costume to recreate is the fact that her outfit is in solid colors and classic designs! I was able to use my red skirt that I wore from NYFW last year, so I was lucky to have a starting piece to build my costume. When I was browsing at Nasty Gal, I found this sweater on sale too! I love how this sweater has a cold shoulder design, which makes this wearable and trendy even after Halloween. For socks, I was able to find some Muk Luks orange knee highs for $3 at Walmart that were super soft and comfy. Lastly, my red heels were on sale at Payless for less than $15. This costume is affordable and perfect for those who want to have a wearable outfit for Halloween, especially if you plan to hang out with your pet dog all day! I shared the exact pieces I wore, along with similar pieces found online below.
SWEATER:

SKIRT:

SOCKS:

SHOES:

GLASSES:

---
DIY SCOOBY DOO DOG TAG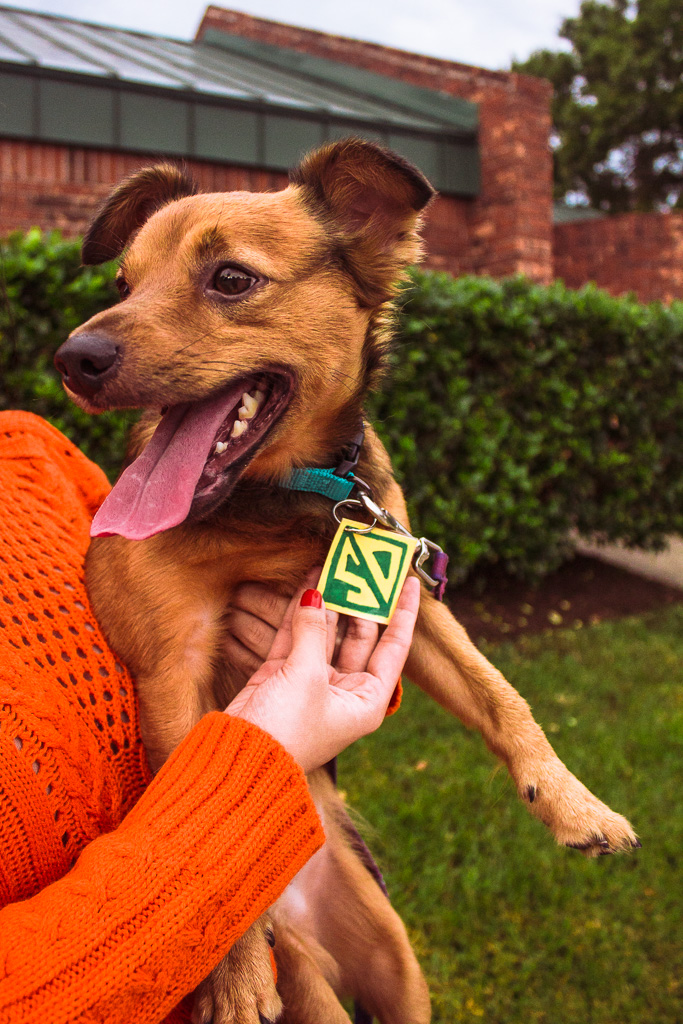 For Rajah's costume, the only thing I needed to worry about was making his dog tag. In comparison to last year's costume, I knew this DIY would be a piece of cake! First, I took a stop at PetSmart to get a solid blue dog tag for $9.99. I originally ordered a Scooby Doo dog tag from Amazon, but due to a delay in arrival, I decided to get crafty and make one myself! I drew inspiration with creating a dog tag from this photo.
Materials:
Bright Yellow Construction Paper
Pencil
Scissors
Blue Construction Paper/Blue Marker
1 wired keychain or metal cable hoop
Blue Dog Collar
Get a piece of yellow construction paper and draw out a diamond shape with a pencil.
Cut out the diamond shape with scissors.
Stencil out the border and "SD" lettering. I used this photo for reference.
Cut out the designs in blue paper to attach to the dog tag OR fill in the border and letters with a blue marker.
Make a small hole on the top of the diamond dog tag with either your scissors or pencil.
Attach it to a metal wired keychain or hoop.
Attach it to the blue collar.
You're all set! A lot of these materials can be found at your local pet and craft stores. However, I'm including shoppable widgets for Scooby Doo related dog items that can also look great with your pet's costume. Click through for some Scooby Doo inspo:

---
I hope you love this fun DIY "Dog and Owner" Scooby Doo costume! What do you think of this easy DIY? Let me know in the comments! For more Halloween inspiration, see my costume in 2017 and 2016. Until next time!