This post is in collaboration with all the Houston restaurants featured below. All opinions are my own.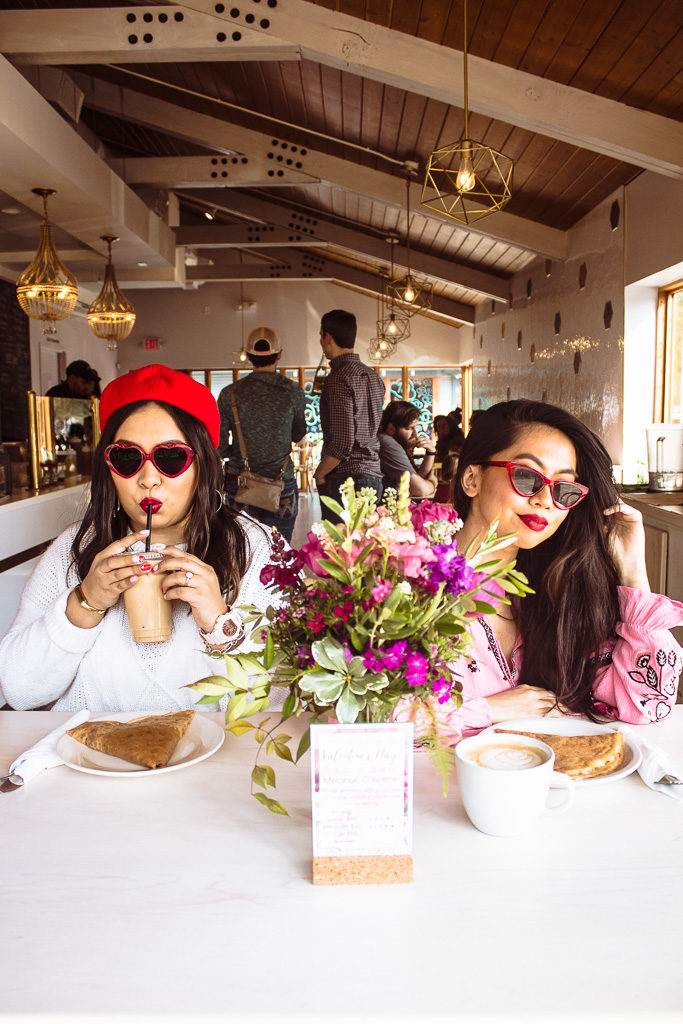 For many, February 14th is the time of year to express love towards your significant other. For me, I'd rather trade that holiday in for February 13th: Galentine's Day. Being in my mid-20's, it is so rare to make time to catch up with your all your friends at once. Everyone is either married, engaged, moved out of state, and/or hustling their careers, but this holiday is a good excuse to reconnect and celebrate your girl squad!
From the very start of my blog business, I've had one friend who has stayed by my side: fellow Houston blogger Silvia! We've met at a fashion show event in 2016 and became blogging besties ever since. To commemorate our friendship, we've decided to share our love for food. In collaboration with the local food/drink shop businesses in Houston, here is our top fave eateries that are perfect for your Galentine's Day.
---
Best Houston Eateries for Galentine's Day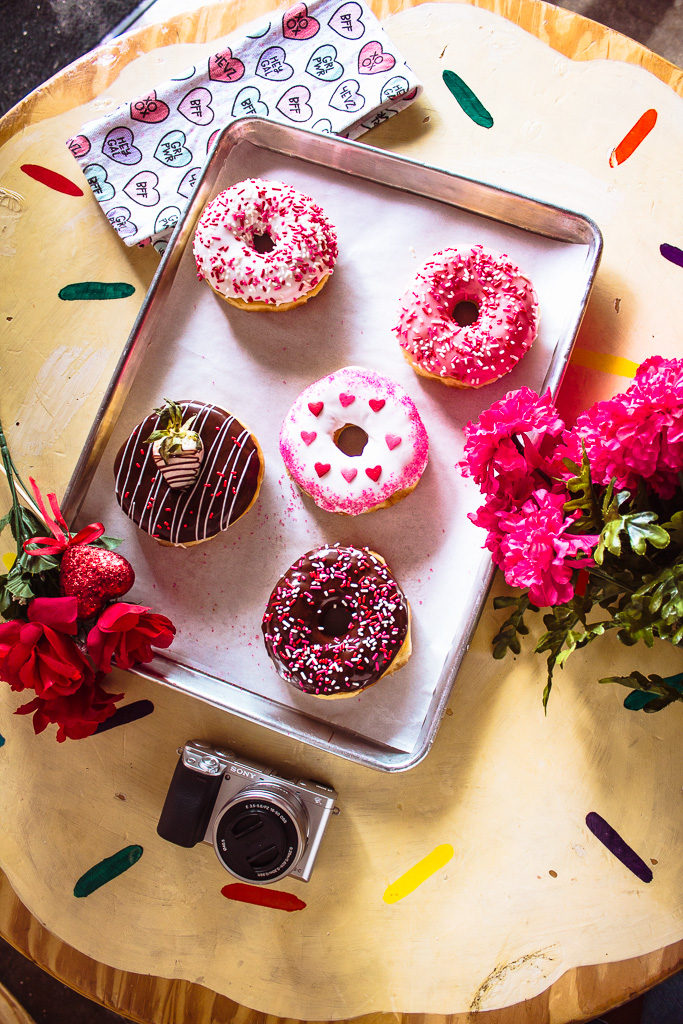 Hugs and Donuts:
1901 N Shepherd Dr #4, Houston, TX 77008
Need to catch up with your bestie for a quick breakfast? This donut shop is the place to meet up for Galentine's Day! Hugs and Donuts bakes fresh pastries daily, and for Valentine's Day only, they will be making these specialty donuts in Houston! The limited-time Valentine's Day donuts include an assortment of red, pink, and white sprinkles, drizzled icing, and chocolate covered strawberries. What I love about this donut shop is the excellent service, cute donut-shaped tables, and hipster ambiance. The most difficult part was choosing which donut to taste first! The texture of the dough tastes amazing, and with the cute donut presentation, I couldn't resist taking a photo for the 'gram. @hugsanddonutshtx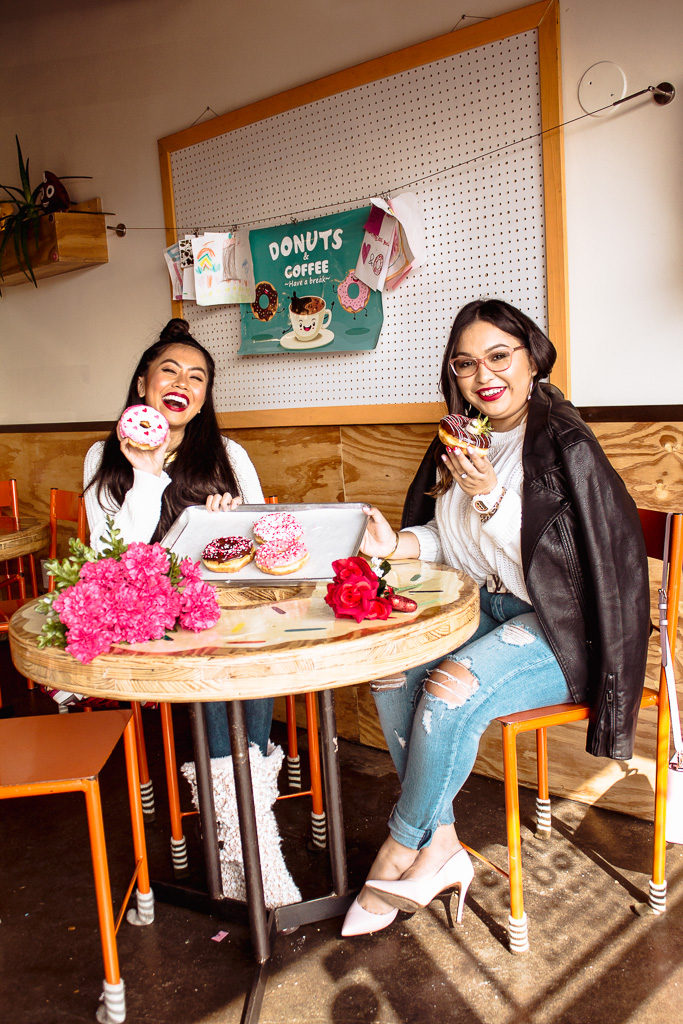 ….this holiday is a good excuse to reconnect and to celebrate your girl squad!
---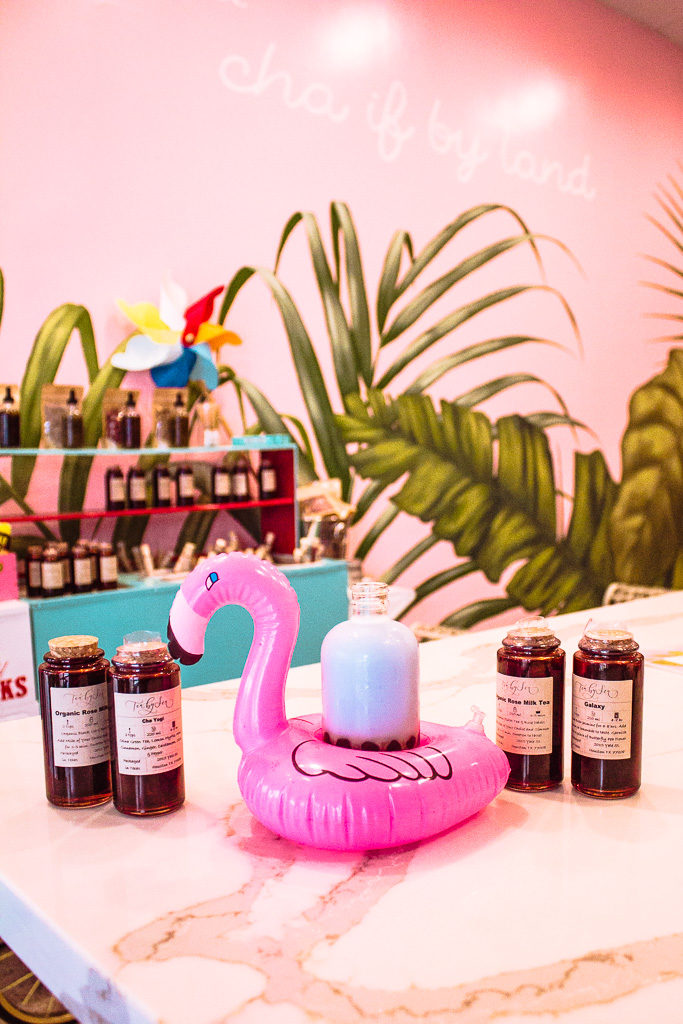 Tea by Sea:
2015 Yale St Houston, TX 77008
Need some tea in a colorful, vibrant ambiance? Tea by Sea, a vegan-friendly drink shop in Houston, is the drink shop to visit for a refreshing drink. Their all natural ingredients and multi-colored drinks have been quite the buzz when they opened last year. Their menu includes specialty coffee and teas such as a pink chai latte, matcha rose tea, and their Instagrammable rainbow drink. When I visited with Silvia, we were able to taste their latest drink menu item: jelly drinks! Made with beet juice, oat milk, and boba, this drink was as refreshing as it is healthy. @teabysea.htx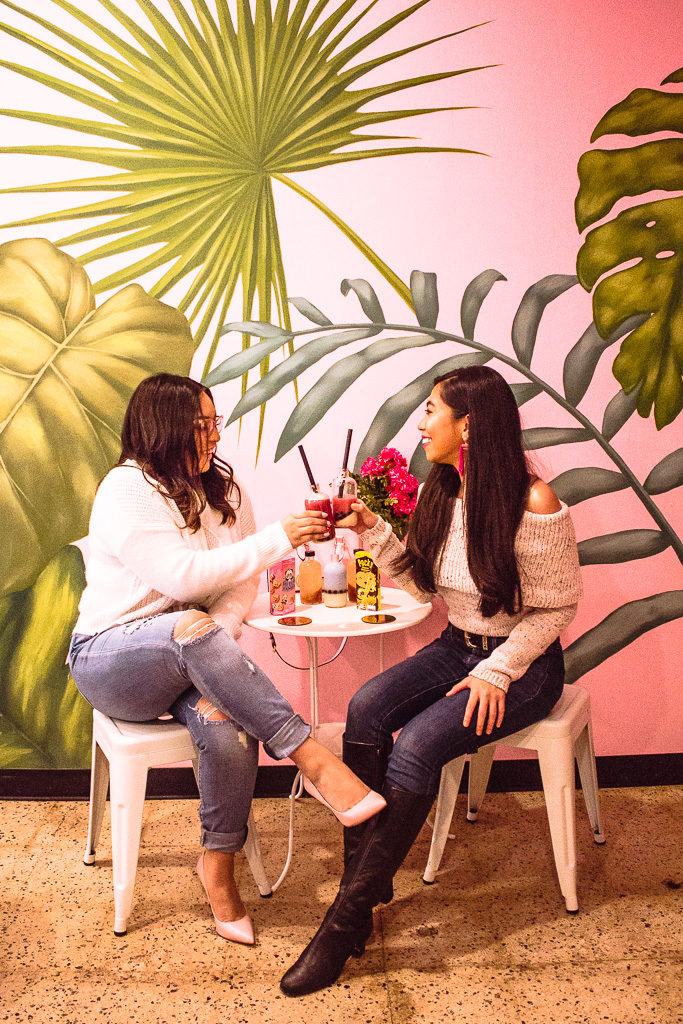 ---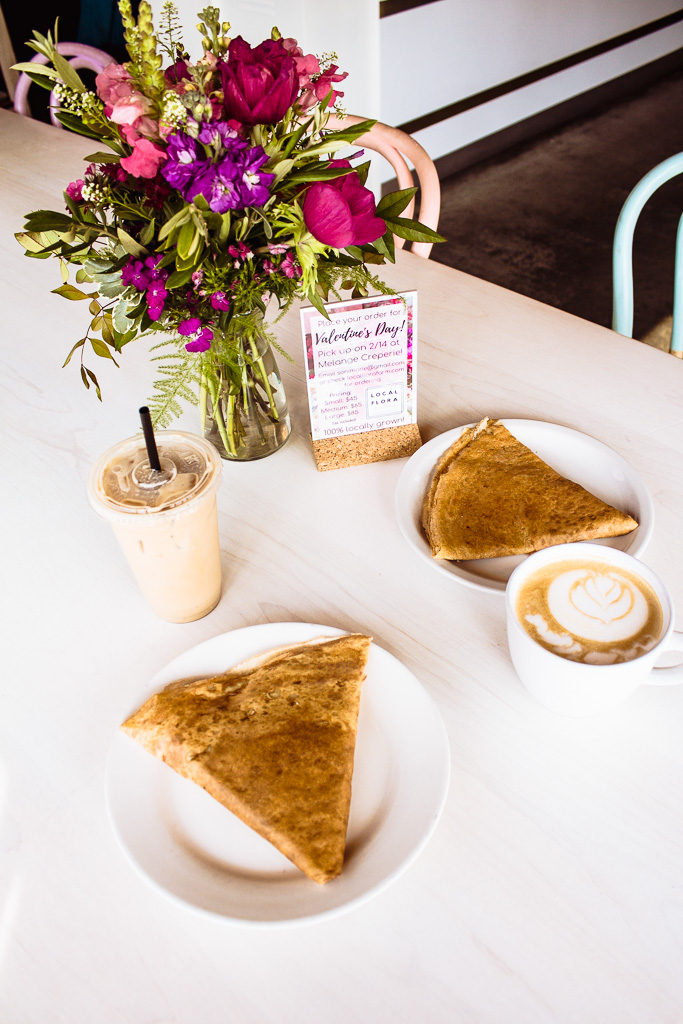 Melange Creperie:
711 Heights Blvd B, Houston, TX 77007
Schedule a brunch date with your gals at Melange Creperie! Located in the Heights, you'll adore their menu of speciality crepes. From savory to sweet, there's something for everyone to enjoy. Plus, they also create seasonal menu items that make guests revisit! When I took a visit, I ordered their chicken enchilada crepe with a hot cardamon honey rose latte, and the combination was delicious! This crepe cafe has an artsy chic aesthetic; the geometric lighting fixtures and multi-colored tiles make this spot a go-to for Houstonians. This crepe spot earns 5 stars to me! @melangecreperie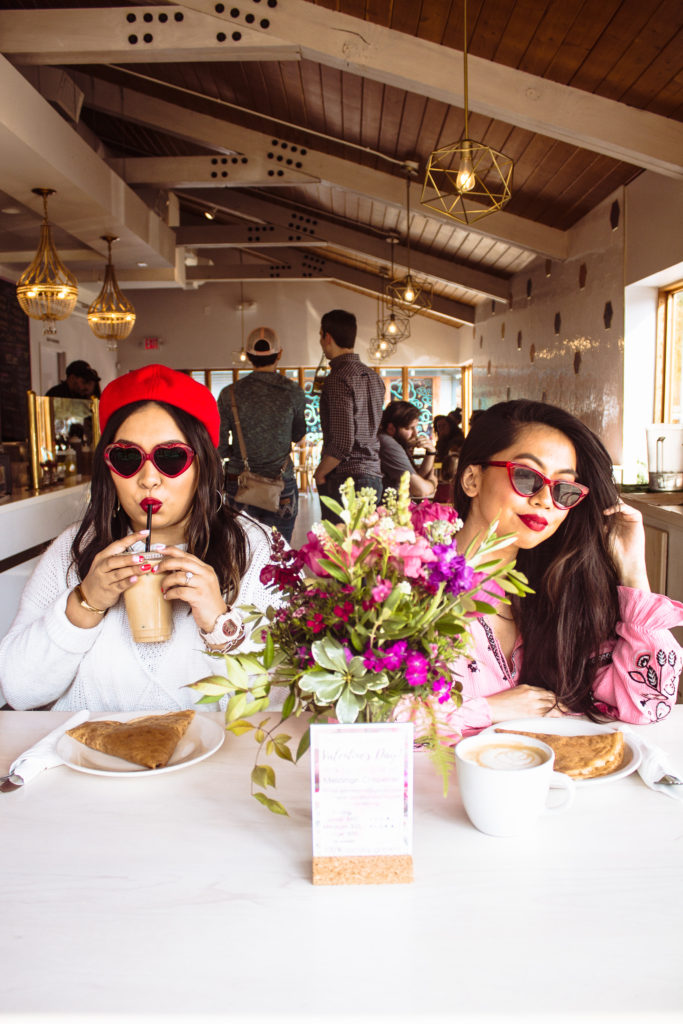 ---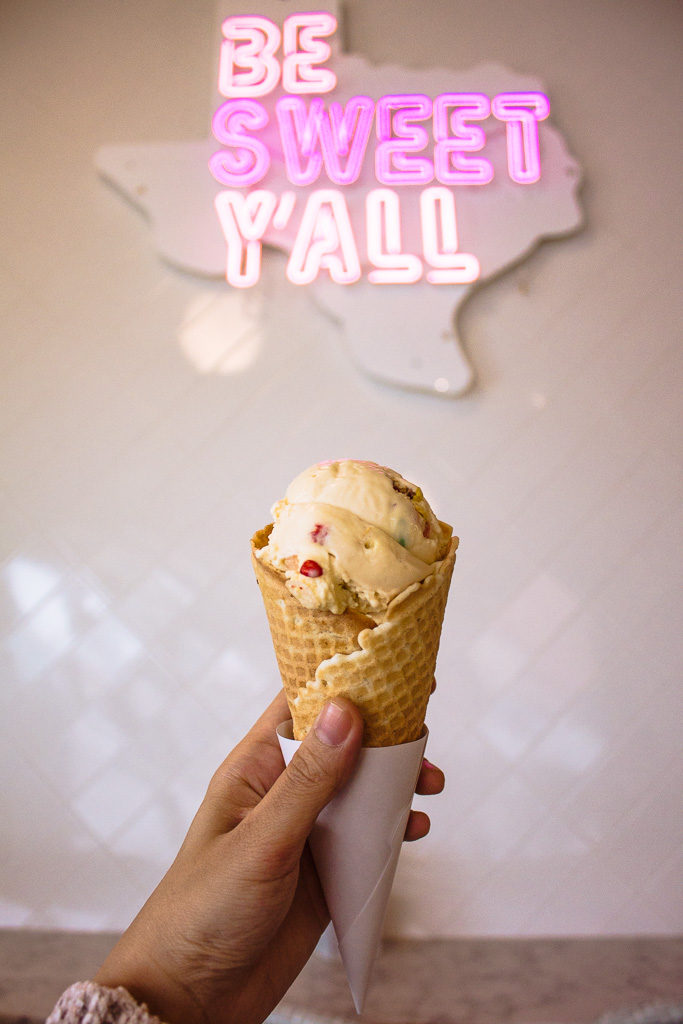 Sweet Bribery:
250 W 19th St suite e, Houston, TX 77008
Last but not least, if you are craving some dessert, head to the newest ice cream shop in town: Sweet Bribery! Since they first opened up for business last November, they are popularly known for their one-of-a-kind ice cream and adorable pastries. When conversing with the manager, she explained how everything is made from scratch – even their sprinkles! I tried their fruit pebble cereal milk ice cream and was immediately obsessed with the flavor! This look of this ice cream shop isn't ordinary either- the pink colored scheme and Texas -shaped neon sign saying "Be Sweet Ya'll" is the cherry on top when customers order here. @sweetbribery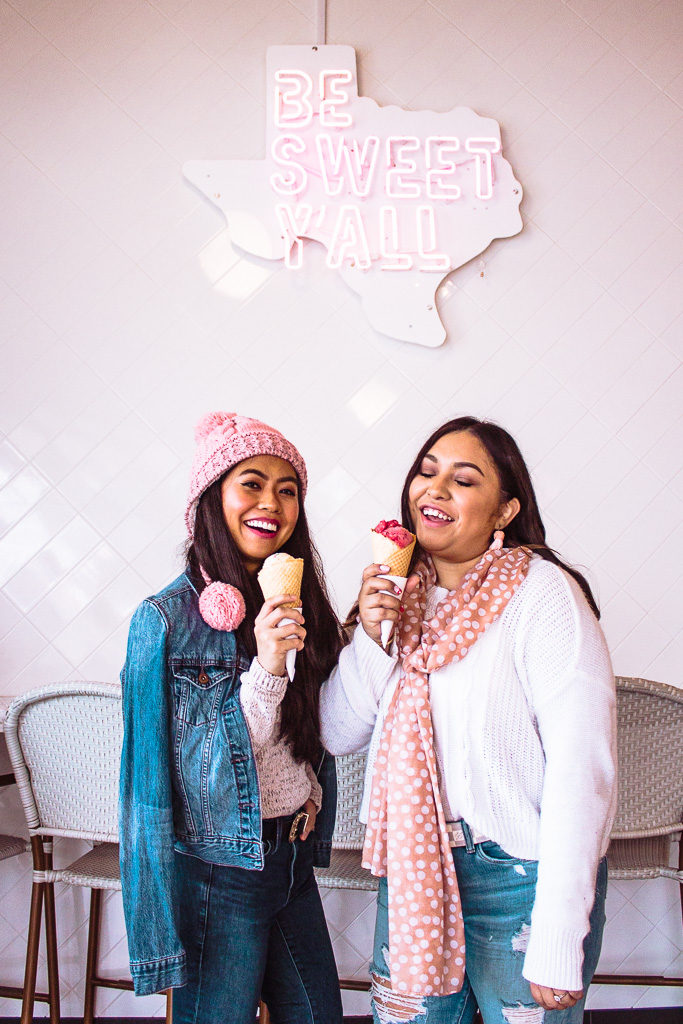 ---
Which one is your favorite Houston eatery? Let me know in the comments below! Special thanks to Silvia and all the local food/drink shops mentioned in this post for being a part of this special Galentine's Day project! For more food guides and reviews, head on over to the food section of my blog. Until next time!