Affiliate links are provided in this blog post and can earn me a small commission. Earnings help towards supporting my blog. Thank you!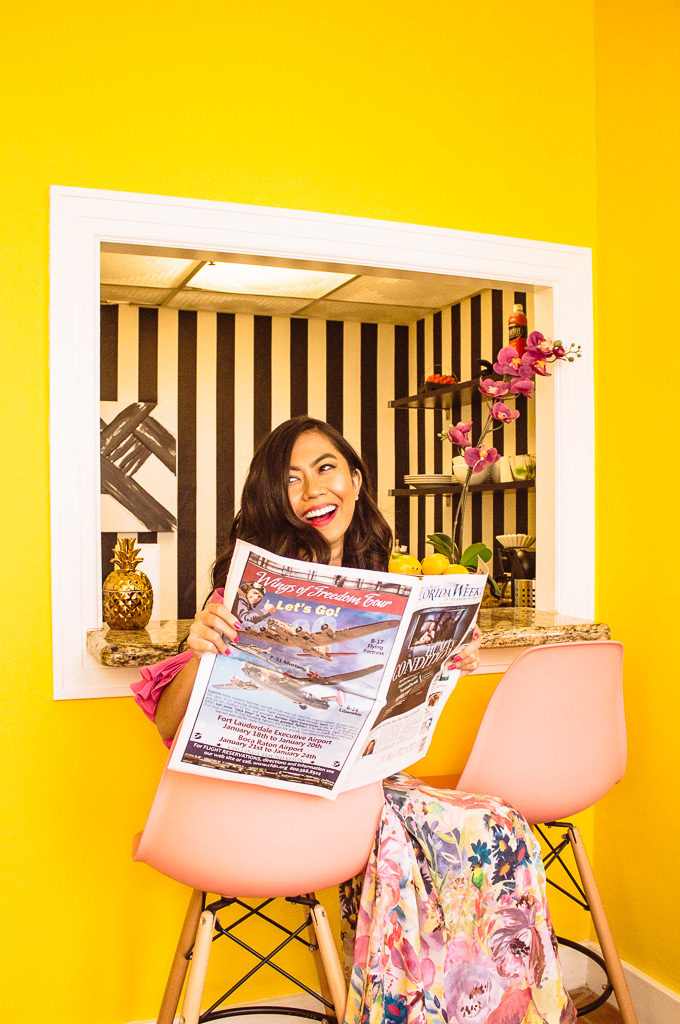 Early this month, I had the pleasure of traveling to sunny Palm Beach, FL for my 26th Birthday. I must say, it was such a great feeling to be back in the Sunshine State! With the cold and windy weather I've experienced during the holidays, I was looking for a new city to visit. Known for it's upscale sophistication, sunny beaches, and small town ambiance, Palm Beach was the ideal travel destination for me.
Palm Beach has been popularly known in Florida for its beauty. In fact, the town brought tourism in the 19th century with the high amount of resorts and luxury hotels built around the island. It's not surprising since the beaches are beautiful in the East coast! While it's typical for Palm Beach tourists to splurge on vacation, I wanted to explore ways where I can enjoy the "paradise lifestyle" more affordably. Here are some key spots I've uncovered while on my birthday trip:
---
Where to Stay in Palm Beach, FL
The biggest struggle of my entire trip was figuring out where to stay! While I do recommend checking out the popular resorts in the island, such as The Breakers and The Colony Palm Beach, the price per night would start at $600. Because I wanted to invest my budget in other aspects of the trip, I opted to search for an Airbnb instead. To my surprise, this colorful condo rental had everything I was looking for!
Not only is it the most charming Airbnb room I've ever seen, it's actually located inside the Palm Beach Hotel and Condominiums. So, you'll feel safe staying in an area with a 24/7 staff. The condo is also right next to a bunch of restaurants, banks, boutique shops, and a Publix. Best part? It's a 5 minute walk to the beach. Whether you're traveling solo or with a few friends, this Airbnb is truly the best in the island! For the price of $175 per night, you can get $40 off your booking here.
---
Where to Shop in Palm Beach, FL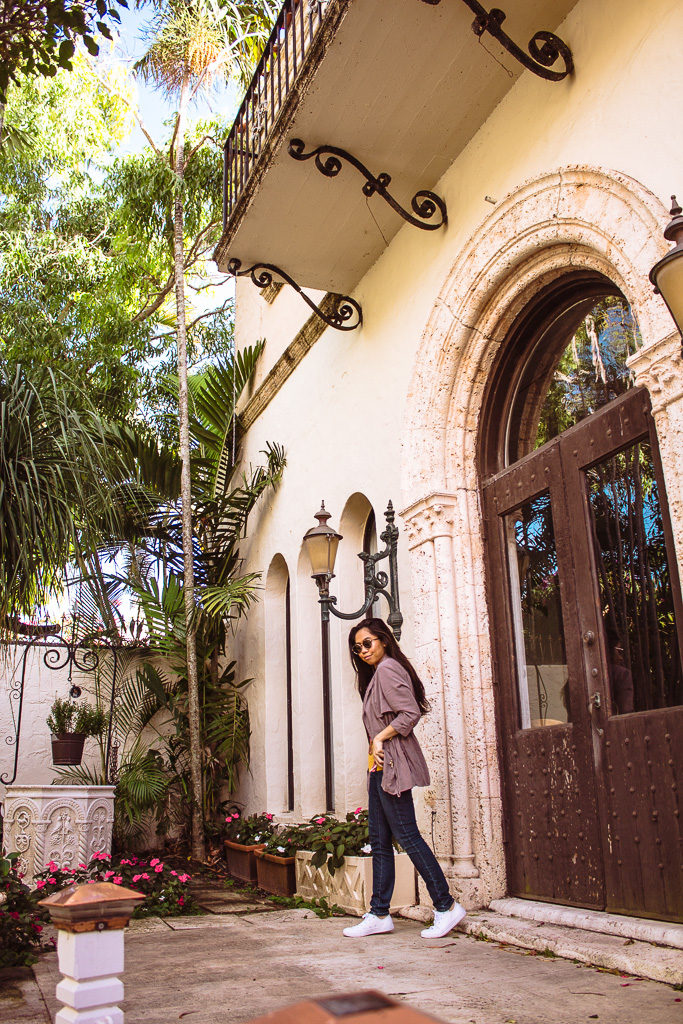 Want to shop until you drop? Lucky you, the Worth Avenue Shopping District is the top shopping destination in the US! From Gucci to Jimmy Choo, the outdoor district has all the top designer brands you can possibly think of! I couldn't help but be in awe of the beautiful window displays of fine jewelry, resort wear dresses, and fancy purses. What I love most about the shopping district are the hidden courtyards and the European architectural design. Even if you're not into shopping (like myself), you can really relax in the quiet garden and fountain areas of the courtyards. Not only is Worth Avenue a great place to shop, but you can find the best artwork, take fabulous photos, and dine here, too.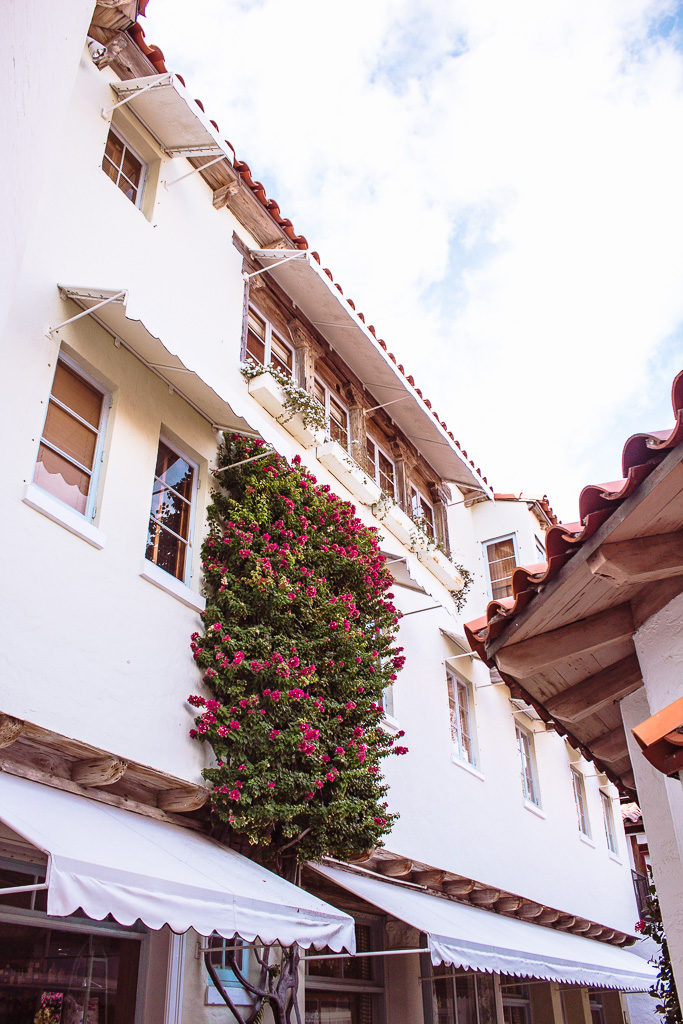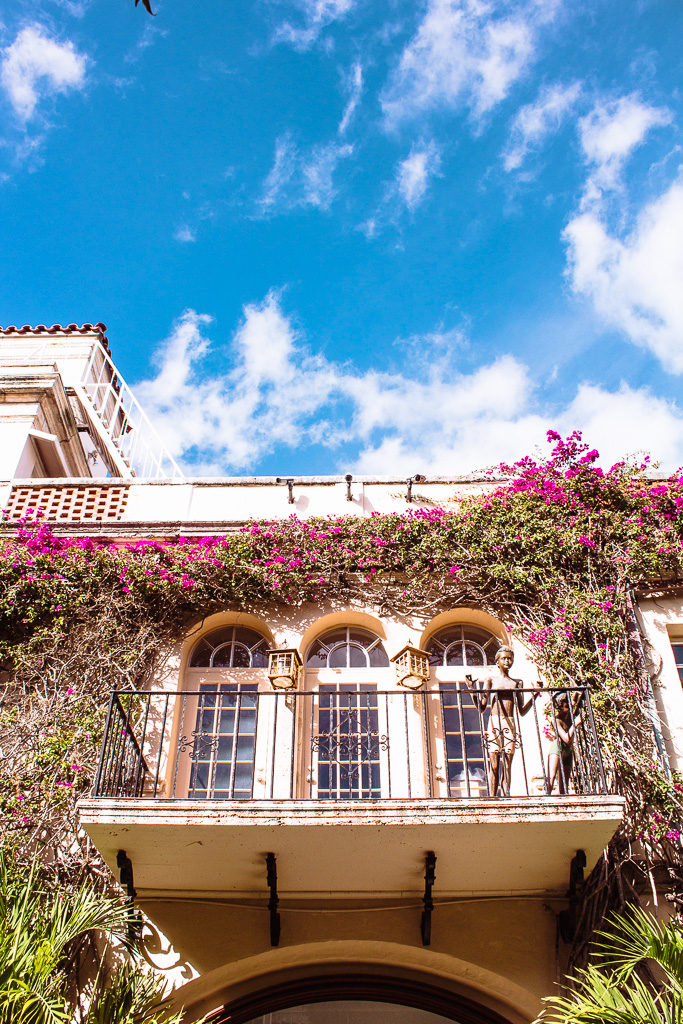 ---
Where to Eat in Palm Beach, FL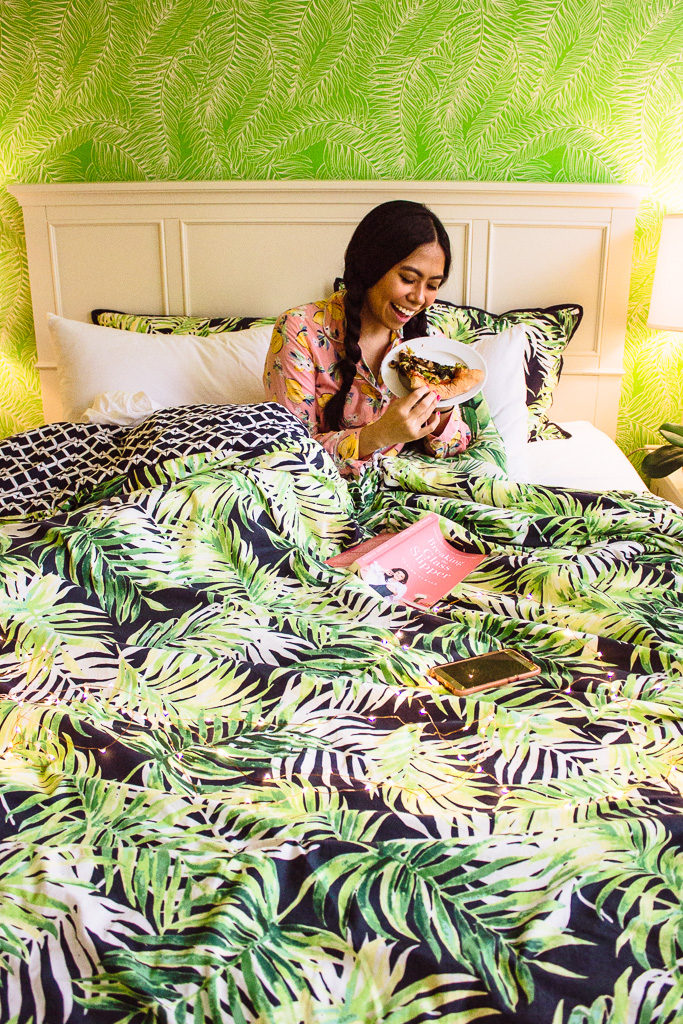 If you're looking to dine or order take out, I tried many different food spots that cater to a variety of price ranges! For a fancy night out, I highly suggest dining at Echo. Echo is an upscale Asian restaurant that is connected to The Breakers. It truly has some of the most amazing flavored dishes I've tasted. If you ever go, be sure to reserve in advance on their website and dress in cocktail attire. For food options, try their Pink Bamboo cocktail, Echo sushi roll, and cheesecake. It's amazing!
For a chill night in, I used my DoorDash app to order a customizable pizza from City Pizza Italian Cuisine. I liked the option of adding your own toppings for the pizza at a cheap price. They were able to arrive at my Airbnb within 15-20 minutes and my order was still fresh! There's a bunch of other food options that are available to order late at night, too. If you want to try their food delivery service (which I use all the time when I travel), you can get $7 off your first order here.
My favorite dessert treat in Palm Beach, believe it or not, was the mango gelato at PeterBrooke Chocolatier along S County Road. I was randomly browsing their store before closing hour, ordered their gelato, and completely fell in love with it! If you want to try another dessert spot outside the island, Sloan's Ice Cream in Downtown West Palm Beach is worth the 10-15 minute drive. The pink-colored aesthetic of the ice cream shop is charming, the service is friendly, and the wide variety of flavors are great for everyone. Plus, you can walk around the park area outside of Sloan's.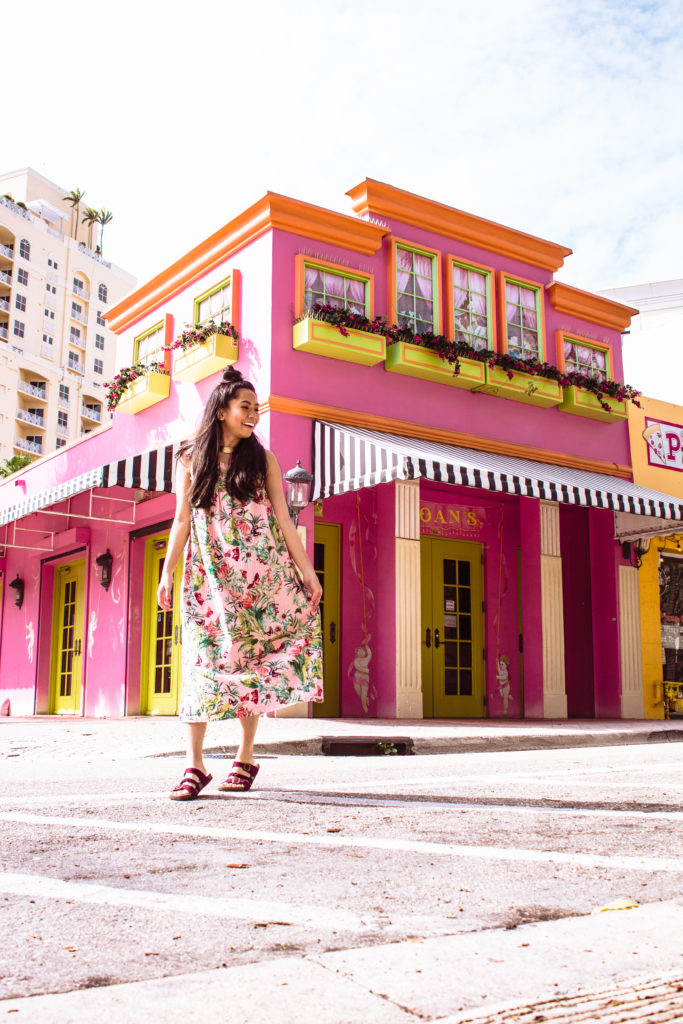 ---
Where to Take Photos in Palm Beach, FL
If you are looking for an iconic Palm Beach photo shot, the Clock Tower is for you! It's located along Ocean Blvd at the entrance of Worth Avenue. The WPB Magazine stated how it's a historic landmark that represented the Palm Beach Pier that was destroyed in the 1930's. You can also take photos underneath the clock tower, which has a nice ocean view. There's also a beach right beside the Clock Tower where you can have some fun in the sun afterwards!
---
Where to Relax in Palm Beach, FL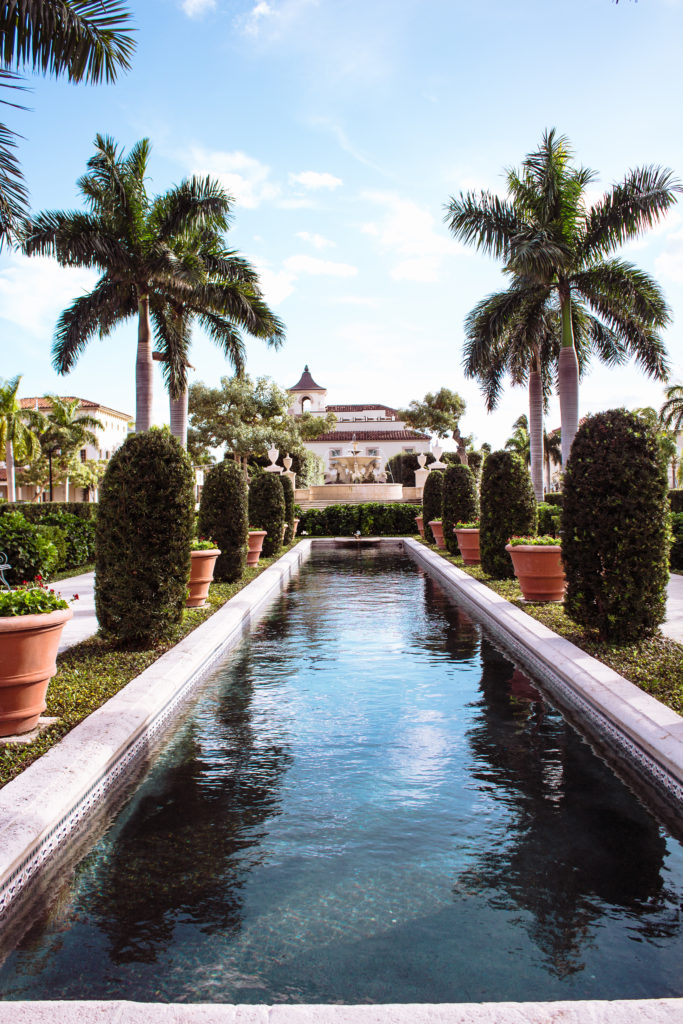 Traveling to rid of your anxiety and stress? A short visit to the Memorial Park at the Palm Beach Town Hall is a peaceful spot in the middle of the town. There are lots of benches, walkways, and garden areas around the park that are great for those who want a resting spot in the middle of the day. The view of the Town Hall from the park (as shown above) makes it look like you're attending the house of the Great Gatsby!
Another relaxing area in Palm Beach are their beaches! Any of their beaches will do, to be perfectly honest. The beach that was closest to my Airbnb had very little crowds and I was able to truly destress from all my worries!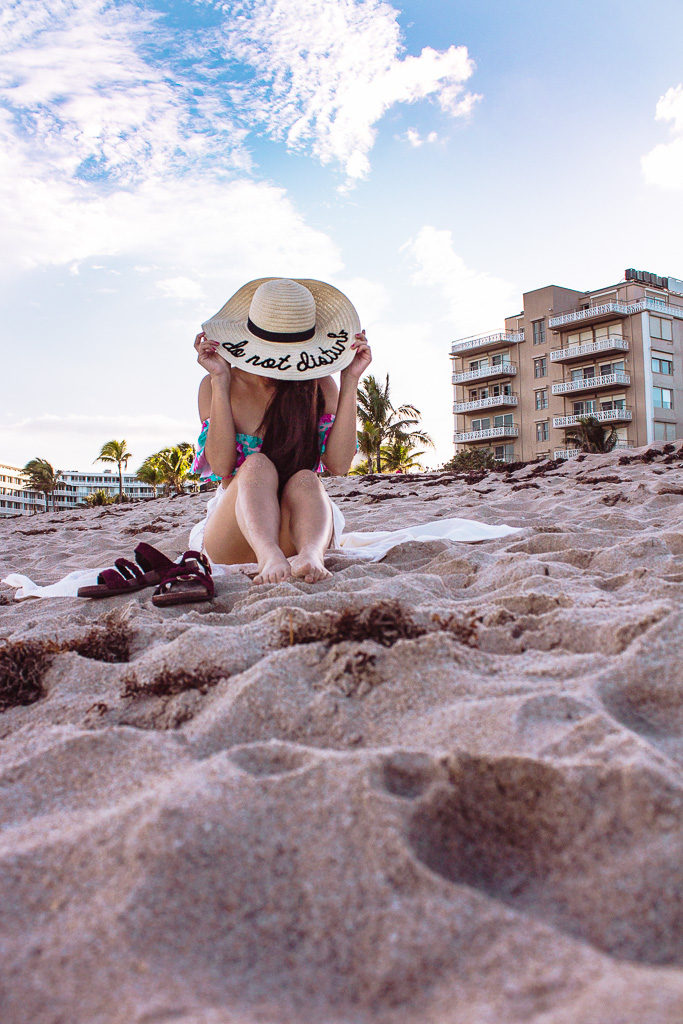 ---
Other Travel Tips for Palm Beach, FL
Transportation: You can access Uber or Lyft at the Palm Beach International Airport. From the airport to Palm Beach, it would take a 15 minute drive for the price of $10-$12. If you're staying for 2-3 days with the intent of staying at the island for the majority of the time, a rental car isn't necessary.
Fashion/Style: Do as the Romans do and dress in bright colors! Many locals would consider the pink and green combo as Palm Beach's unofficial town colors, so have fun with color scheming your vacation outfits!
Safety: While I always advise people to be cautious of where you are at all times, I felt pretty safe walking alone during the evening hours at Palm Beach.
Eating Customs: Many restaurants in Palm Beach, especially during the evening, encourage all guests to be in "cocktail chic" attire. Trust me from experience, you'll stick out if you don't! So, make sure to pack a nice LBD and some fancy heels!
As long as you're enjoying your time in the island, you can't go wrong with what you decide to do!
---
Want to share some thoughts about my travel guide? Let me know in the comments below! Make sure to follow me on all my social media channels to see the remaining content of my Palm Beach trip! Until next time!